Some 1,200 representatives from 116 electric cooperatives (ECs) nationwide made a courtesy visit to the House of Representatives to mark the 8th National Electrification Awareness Month (NEAM) and the 48th Founding Anniversary of the National Electrification Administration (NEA).
Leaders of the various electric cooperatives and member-consumer-owner (MCO) organizations, accompanied by NEA Administrator Edgardo Masongsong and other key agency officials, paid separate courtesy calls on House Speaker Pantaleon Alvarez, House Majority Leader Rudy Fariñas, and House Energy Committee Chairman Rep. Lord Allan Jay Velasco.
During the visits, the National Center of Electric Cooperative Consumers, Inc. (NCECCO) national chairman Akmad Mamalinta turned over a copy of the proposed bills and policy papers of the group including the proposed amendments to the Electric Power Industry Reform Act of 2001 or EPIRA, the establishment of the Lineman Training Academy, and the creation of the charter for electric cooperatives.
"The electric cooperatives and the member-consumer-owners presented a policy paper and legislative agenda for the consideration of Congress. We had a healthy conversation with the Speaker and the chairman of the Committee on Energy, as well as the Majority Floor Leader. We expect good development," Mamalinta said.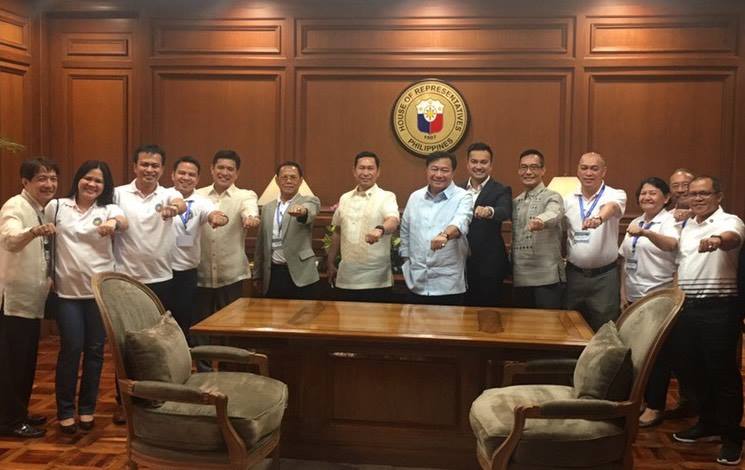 Among the ECs' and MCO organizations which joined the trip to the House of Representatives were the Philippine Rural Electric Cooperatives Associations, Inc. (PHILRECA), the Philippine Federation of Electric Cooperatives (PhilFECO), the Electric Consumers Advocacy of the Philippines (ECAP), the National Association of General Managers of Electric Cooperatives, Inc. (NAGMEC), and the NCECCO.
NCECCO is comprised of the Rural Electric Cooperative Board of Directors Association, Inc. (RECOBODA), (Association of Board of Directors of Electric Cooperatives, Inc. (ABDEC), Mindanao Coalition of Power Consumers (MCPC), No to Excessive Authority Advocate for Consumer Owners Movement (NEAADCOM), National League of Electric Cooperative Member-Consumer- Owners (NL-EC-MCO), Consumer Advocate for Rural Energy of Zamboanga Peninsula, Inc. (CAREZPI), and League of Electric Consumers Advocate for Reform and Empowerment of the Society (LeCARES).
On August 1, Representative Velasco introduced a resolution recognizing the accomplishments of the National Electrification Administration and the National Electrification Awareness Month (NEAM). The 8th NEAM coincides with the 48th Founding Anniversary of the NEA on August 6.
Since 1969, the Rural Electrification Program through the NEA and its partner ECs successfully energized 78 provinces, 90 cities, 1,385 municipalities, 36,051 barangays and 118,632 sitios as of May 31. This represents 83 percent of the sitios within the NEA and EC coverage areas.