Senator Sonny Angara has filed a bill that seeks to make cancer treatment and care more equitable and affordable for all Filipinos.
"Cancer pushes Filipino families deeper into poverty. Its treatment costs are catastrophic and the economic burden is overwhelming. Social safety nets are limited, with patients and their families often spending on laboratory tests, medicines, medical supplies, nutritional supplements out of their own pockets. Abandonment or discontinuance of treatment is most observed among the poor and marginalized sectors but occur even among the middle class," Angara said.
A recent Philippine Statistical Authority report estimated that one in every 10 registered deaths in the country is attributable to cancer.
Every hour, at least seven Filipinos die from cancer, according to the Cancer Coalition of the Philippines.
The group added that many of the preventable and premature deaths from cancer can be attributed to: low awareness of signs and symptoms; delayed diagnosis or misdiagnosis; poor access to health facilities; limited health systems infrastructure for treatment and care; lack of trained health professionals for cancer-related services; among others.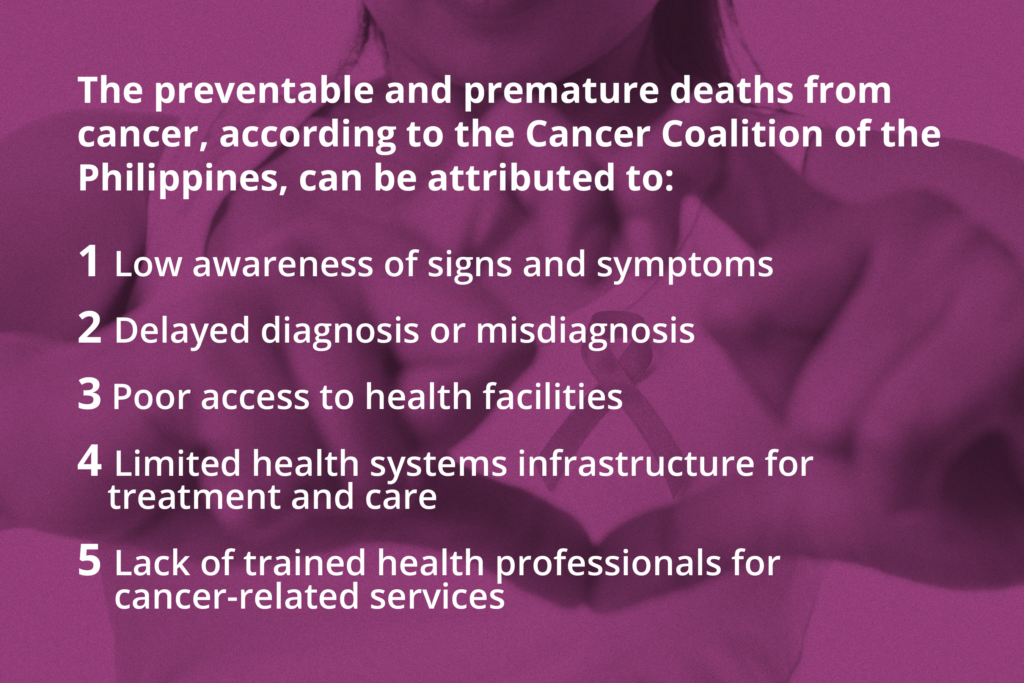 The veteran legislator lamented the country's ill-preparedness to provide proper cancer care thus the need for an integrated cancer control and management program.
The seasoned lawmaker's Senate Bill 1570 provides for a P30-billion cancer assistance fund to support the medical and treatment assistance program for cancer patients.
The bill also mandates that 10 percent of the incremental revenues from the excise tax on alcohol and tobacco products will be earmarked for the cancer control and management program.
It further seeks to expand Philhealth's current benefits to include screening, detection, diagnosis, treatment assistance, palliative and supportive care, survivorship follow up care and rehabilitation, for all types and stages of cancer, and for both adults and children.
SB 1570 likewise aims to ensure that there's sufficient supply of essential cancer medicines and cancer control related vaccines, which should be made accessible and affordable.
"We must afford every Filipino cancer patient with the highest possible chance of survival. We should also create a supportive environment for people living with cancer and cancer survivors, especially their families and carers, to reduce distress and ensure their well-being," the youthful senator said.
He noted that it is alarming that the Philippines is among the countries with highest prevalence of breast cancer in the world.
"As we observe Breast Cancer Awareness Month, we call on our colleagues to support the passage of the National Integrated Cancer Control bill to help strengthen our health systems to ensure accessible, affordable and high-quality care for all Filipino cancer patients," Angara added.