The House committee on appropriations chaired by Rep. Karlo Alexei Nograles (1st District, Davao City) has approved the funding provision of a substitute bill seeking to protect senior citizens from violence.
The approved Section 27 of the unnumbered substitute bill provides that the amount necessary to implement the provisions of the "Anti-Elder Abuse Act" shall be included in the annual General Appropriations Act.
The bill, which was referred to the appropriations committee by the committee on population and family relations chaired by Rep. Sol Aragones (3rd District, Laguna), will now be endorsed to the plenary for approval.
The bill is authored by Reps. Victor Yap, Wes Gatchalian, Magnolia Rosa Antonino, Rodel Batocabe, Alfredo Garbin, Jr., Christopher Co, Linabelle Ruth Villarica, Estrellita Suansing, Raul del Mar, and Jose Antonino Sy-Alvarado.
The bill declares it is the policy of the State to value the dignity of senior citizens and thereby guarantee full respect for human rights. The State shall also recognize the need to protect the family and its members, particularly the senior citizens from all forms of violence, abuse, neglect, exploitation and coercion, especially acts deleterious to their personal safety and security.
Towards this end, the State shall exert efforts to address all forms of violence, abuse, neglect, exploitation and coercion, especially acts deleterious to their personal safety, security, dignity or any discriminatory act committed against senior citizens in keeping with the fundamental freedoms guaranteed under the Constitution and the provisions of the Universal Declaration of Human Rights.
The bill identifies the context of elder abuse or acts of violence against senior citizens. This includes single or repeated acts that cause harm or distress to an elderly committed through threatening or attempting to cause any of the following: emotional or psychological abuse; financial or material exploitation; physical abuse; neglect by refusal or failure to fulfil any part of a person's obligations or duties to an elderly person; mental or emotional suffering; abuse to include withdrawal of financial support, deprivation of financial resources; deprivation of food, comfortable clothing, essential medication, personal and basic financial services; battery, physical assault, or arbitrary deprivation of liberty; abandonment; coercion, especially acts deleterious to their personal safety and security.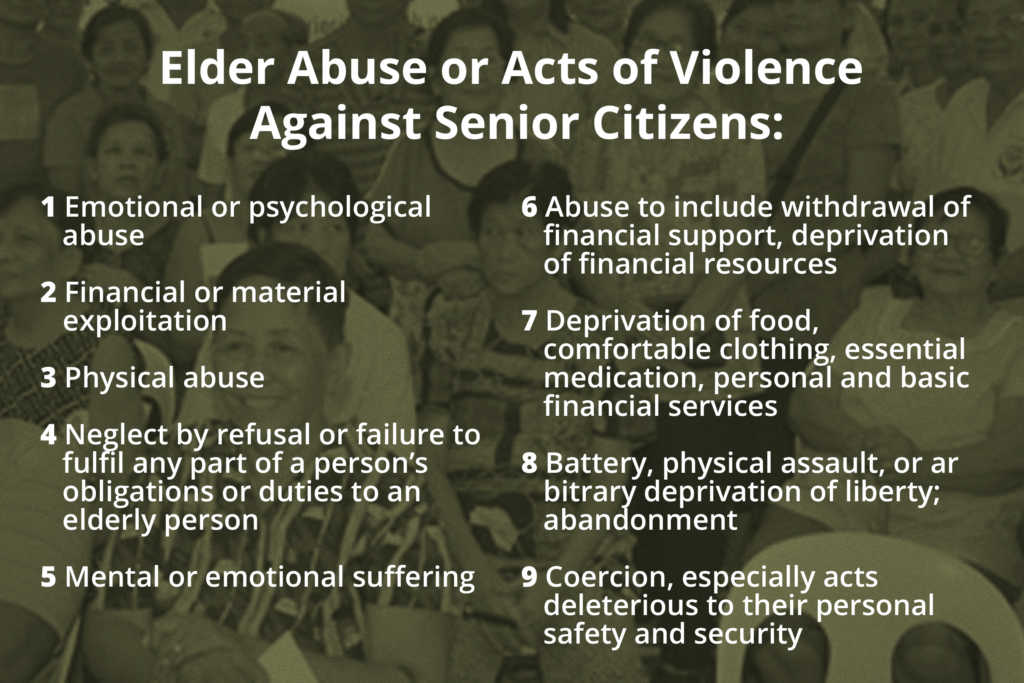 In addition to those provided for under existing laws during the pendency of the case, a victim of violence shall have the right to avail of protection and legal assistance from the Public Attorney's Office (PAO) of the Department of Justice (DOJ) or any public legal assistance office; be entitled to support services from the Department of Social Welfare and Development (DSWD) and the Local Government Unit (LGU) concerned; be entitled to all legal remedies and support as provided for under the Family Code; be informed of the rights and services available including the right to apply for a protection order; and be entitled to actual compensatoy, moral and exemplary damages.
The DSWD Secretary, in coordination with the LGUs shall provide the senior citizen, who is a victim of violence and similar acts, the following services: a safe place or temporary shelter; counselling, healing, recovery and rehabilitation programs; grants for non-profit organizations to support projects in local communities; and make grants to develop and implement outreach programs directed toward assisting senior citizens who are victims of abuse and violence.
The bill also mandates the Philippine National Police (PNP) to adopt a written protocol establishing written guidelines and procedures to be followed by police officers in responding to request for assistance and calls related to violence against senior citizens.
Moreover, the bill provides for education and training programs for law enforcement officers and persons involved in responding to cases of violence against senior citizens; mandatory reporting by public and private hospitals and their attending physicians or nurses, barangay health workers, therapists or counsellors of the outcome of treatment or examination of domestic violence within 48 hours to the nearest police station; establishment of a Senior Citizen Help Desk in every barangay; and establishment of DOJ Special Prosecution Units that will handle cases of violence against senior citizens.
It mandates the Regional Trial Court (RTC), as a Family Court, to have original and exclusive jurisdiction over cases of violence against senior citizens.
Protection Orders (POs) to prevent further acts of elder abuse or violence against senior citizens may be issued. These include Barangay Protection Order (BPO), Temporary Protection Order (TPO), and Permanent Protection Order (PPO).
Criminal acts constituting attempted, frustrated or consummated parricide or murder or homicide shall be punished in accordance with the provisions of the Revised Penal Code. Other acts shall be punished by prision correctional, a fine in the amount of P100,000 to P300,000. The perpetrator shall also undergo mandatory psychological counselling or psychiatric treatment.