The National Electrification Administration (NEA) Board of Administrators recently approved the calamity loan that would fund the rehabilitation and reconstruction of the damaged power distribution lines in Marawi City.
Administrator Edgardo Masongsong said the NEA Board, in a resolution dated December 5, approved the request of the Lanao del Sur Electric Cooperative, Inc. (LASURECO) for calamity financial assistance amounting to P151 million.
The loan will be used to finance the power restoration and rehabilitation of the distribution system and other facilities of Lasureco that were affected by the five month-long armed conflict in Marawi.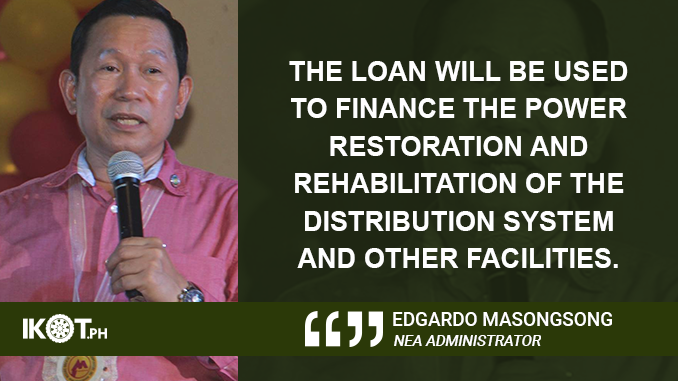 "This development brings us closer to the restoration of electricity services in Marawi City. With fully-energized power lines, we hope to ease the job of other agencies tasked with rehabilitating the war-torn city under Task Force Bangon Marawi," Masongsong said.
The amount will be converted into a grant upon the receipt of NEA of the subsidy fund from the national government. The loan is payable in 10 years with maximum grace period of one year at a 3.25 percent per annum interest rate.
NEA initially released this year a P6-million calamity loan for LASURECO, currently under the management of the Task Force Lanao Sur Power, to cover the cost of its operational expenditures (OPEX).
Meanwhile, Lasureco Acting General Manager Nordjiana Ducol welcomed this development and thanked NEA for providing them the needed financial assistance to help them get back on their feet after the conflict.
"We are grateful for the continued support the NEA and the Department of Energy have provided to us. This financial aid is going to help speed up the power restoration and rehabilitation works in Marawi City," Ducol said.