Senate President Koko Pimentel III expressed his gratitude to the Filipino people for their continued trust in his leadership of the Senate.


The Social Weather Station (SWS) released its Fourth Quarter 2017 Survey which showed Pimentel achieving a "good" net satisfaction rating at +49, up three points from the +46 he received in the Third Quarter 2017 Survey.
"I am grateful for the continued confidence shown in me by the Filipino people. My wish is that my colleagues in the Senate and I can keep their trust in 2018 as we work harder to improve the quality of life for all", said the senate chief.
The SWS survey was conducted from December 8 to 16, 2017, a week which saw the passage of the budget, the Tax Reform for Acceleration and Inclusion bill, and the joint resolution for the increase of base pay for military and uniformed personnel in the Senate.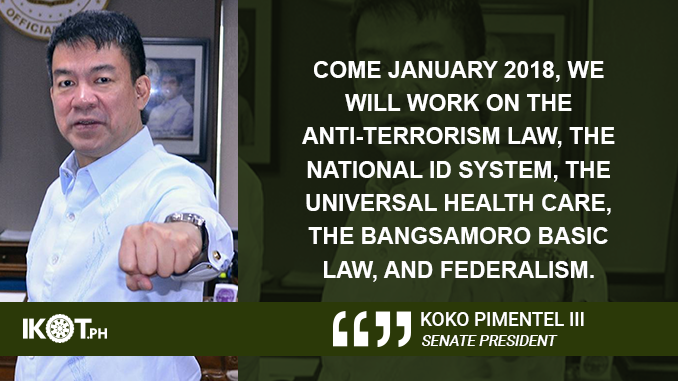 The senate head said, "Come January 2018, we will work on the Anti-Terrorism Law, a law creating the National ID system, a law providing Universal Health Care, the Bangsamoro Basic Law, and a measure that would convene Congress as a Constituent Assembly and pave the way for the shift to Federalism."
The Senate has consistently garnered high ratings as an institution under Pimentel's leadership.