Senator Cynthia Villar has proposed amendments to the bill creating the coconut levy trust fund to make sure that the benefits for the 3.5 million farmers are protected and maximized.
During the period of individual amendments on Senate Bill 1233 or the Coconut Farmers and Industry Development Act at the plenary session of the Senate, Villar introduced measures to safeguard the P100-billion coconut levy funds and to ensure increased income for all coconut farmers.
"In my consultation with industry stakeholders, there was strong support for the safeguarding of the coconut levy funds and making its earnings available to support the livelihoods of small coconut farmers," the veteran legislator said.
The chairperson of the Committee on Agriculture and Food asked Senator Francis Pangilinan, sponsor of the bill, to include a provision that will mandate "the investment of the trust fund only in Philippine government securities to ensure the safety of the fund and for assured returns."
"In terms of the deployment of the trust fund for investment purposes, this representation strongly feels that as a business woman, investing in stocks, commodities, futures and options would be very risky for a trust fund that is endowed with public interest, even where the services of fund managers are engaged," the seasoned lawmaker said.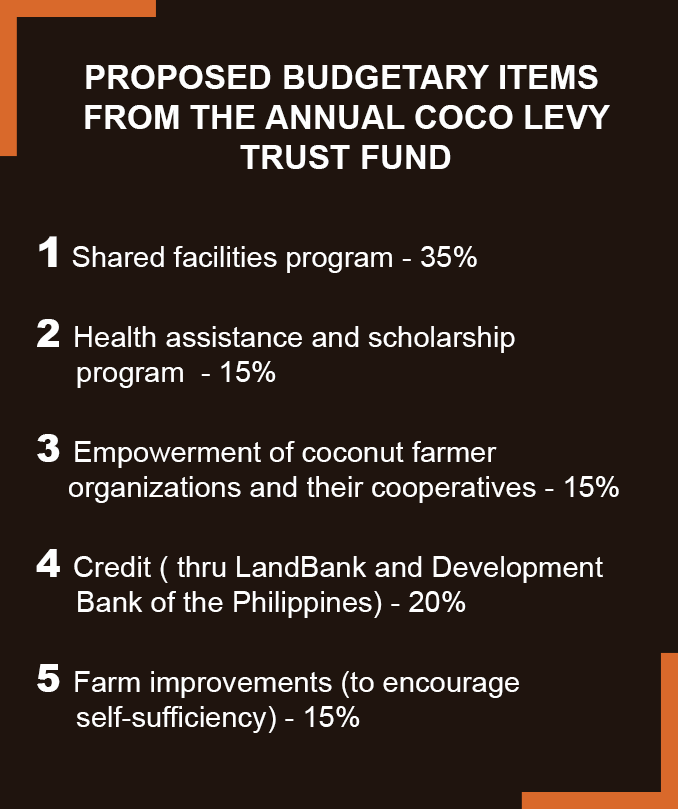 The lady senator also pushed for the earmarking of the yearly income of the coco levy trust fund with the following: a.Shared facilities program, 35%; b. Health assistance and scholarship program, 15%; c. Empowerment of coconut farmer organizations and their cooperatives, 15%; d. Credit (thru LandBank and Development Bank of the Philippines), 20%; and e. Farm improvements (to encourage self-sufficiency), 15%.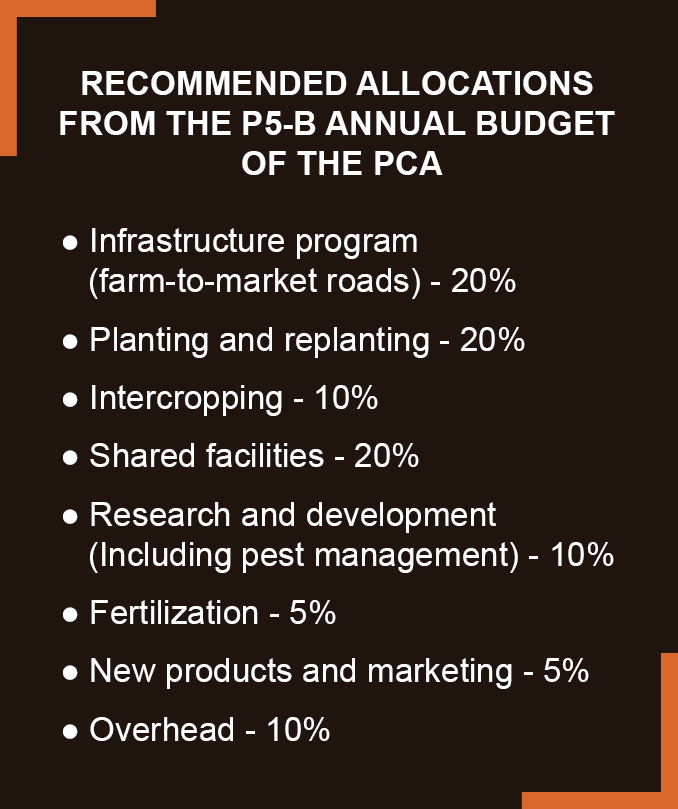 "Projects and facilities relating to shared facilities and farm improvements will be implemented to support community development and encourage community-managed enterprises, such as community nurseries, processing facilities and fertilizer production," Villar said.
The Nacionalista Party senator also introduced amendments to make sure that the Philippine Coconut Authority (PCA) will have a yearly appropriation of not less than P5 billion in the General Appropriations Act (GAA) for the following purposes: a. Infrastructure program (farm-to-market roads), 20%; b. Planting and replanting, 20%; c. Intercropping, 10%; d. Shared facilities, 20%; e. Research and development (Including pest management), 10%; f. Fertilization, 5%; g. New products and marketing, 5%; and h. Overhead, 10%.
Villar also added amendments in the bill that will promote the propagation of hybrid coconut seedlings that can produce 150 nuts per year per tree, intensive effort on intercropping of alternative farm crops such as cacao, coffee and banana; livestock raising; and the establishment of Coconut Industry Farm Schools in every coconut producing province to support and enlarge the trained human resource pool of coconut farmers by the PCA and the Technical Education and Skills Development Authority.
"We are very hopeful that with these safeguards and reforms in place, we can finally see the day when poverty incidence is no longer the highest among our coconut farmers," Villar said.