With over 19,000 sitios across the country that remain without electricity, the National Electrification Administration (NEA) and its partner electric cooperatives (ECs) have pledged to complete all pending state-funded rural electrification projects by 2022.
The commitment was made during the ECs General Managers' Session held recently at the NEA auditorium in Diliman, Quezon City, which drew around 134 delegates in attendance, consisting of general managers, board members and representatives from 112 ECs.
Administrator Edgardo Masongsong reminded the participants of their mandate to ensure that the benefit of electricity reaches every Filipino household. He also urged the ECs to come up with strategies to fast-track efforts towards achieving energy access for all in four years.
"The ways of the past were already proven inadequate to the demands of the country's growing rural economy. We have to catch up, double our efforts and ensure that our services are more than enough to drive the Duterte administration's economic legacy after 2022," the NEA chief said.
NEA Deputy Administrator for Technical Services Engr. Artis Nikki Tortola, meanwhile, said there is still much work to be done but assured the ECs of the agency's commitment to providing necessary assistance to help them in carrying out the electrification projects.
"The end goal is [to ensure] that all potential consumers are energized. NEA will adjust accordingly to the strategies that the electric cooperatives will be taking in order to [keep the projects within] the proposed timeline," Tortola said.
Latest data from the rural electrification agency show there are still 23,464 sitios in the entire country that do not have access to electricity. Of the total number of unenergized sitios, 19,740 sitios are identified as "implementable" to date, most of which are in Mindanao with 8,535 sitios, followed by Luzon with 6,541 sitios, and Visayas with 4,664 sitios.
The figures are based on updates submitted by the ECs to the NEA in a series of Sitio Electrification Program (SEP)-Phase 2 summits conducted nationwide by its Corporate Planning Department, in coordination with the Accelerated Total Electrification Office, from November 2017 to February 2018.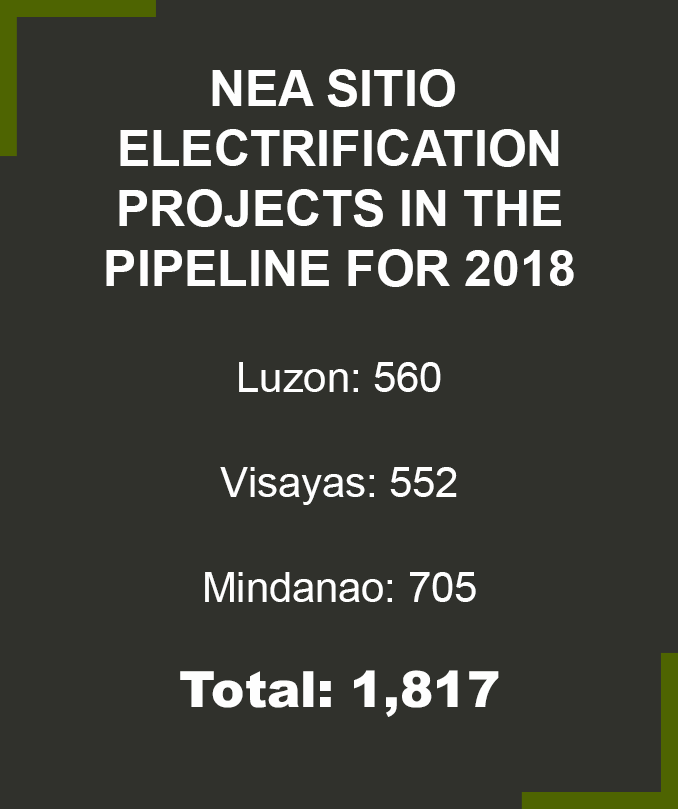 For this year, the NEA and its partner ECs target to bring electricity to 1,817 sitios – 560 in Luzon, 552 in Visayas, and 705 in Mindanao. Further, the agency is requesting P5-billion from the national government to finance the 3,626 electrification projects under SEP for 2019.
Last week, the NEA gathered the general managers of different ECs under its supervision to discuss, among others, the progress of rural electrification projects in their respective coverage areas.
Before the assembly ended, the participating delegates pledged to strongly support the government's Rural Electrification Program (REP) by fast-tracking the implementation of SEP, Barangay Line Enhancement (BLEP) and Household Electrification Programs (HHEP).
They also committed to "complete and energize the REP projects for BLEP, SEP, HHEP for the year 2018-2022 and adhere to the rules and regulations of the NEA concerning the efficient utilization and timely liquidation of subsidy funds."