Article by: Jessica Dale Bautista, Janelle Kyla Cruz, and Joey Romero
The activities scheduled for each day of this week successfully displayed the talents and abilities of Thomasian Psychology students, not only through artistic performances but also in terms of leadership, collaboration, and organization. The fact that the events had already occurred in various campus auditoriums rather than just on our screens with different react buttons was extremely surreal, and it definitely spelled magic in our hearts and minds as they brought back nostalgia from before the pandemic.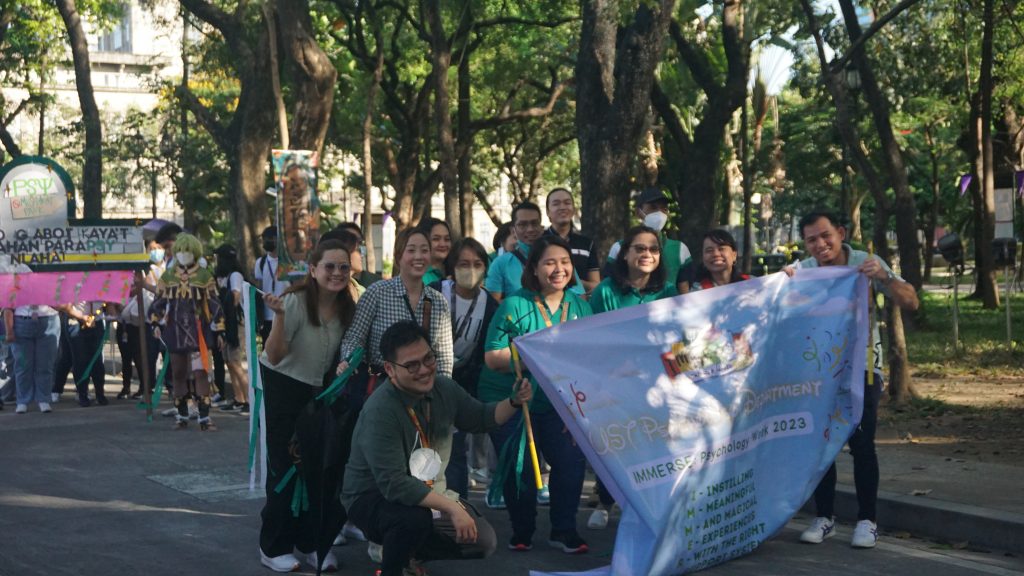 Thomasian Psychologists should definitely not fret of their lives after college as horizons of career and new learning opportunities await them. Entitled PSYaan Ba 'To Patungo: The Life After College, this event discussed a variety of avenues which Psychology students can venture into once they enter university. Asst. Prof. Eric L. Dimar, MA, RGC, RPsy shared a diversity of career paths his peers are now currently taking, which range from being medical doctors to a beauty queen. He further explained that life is unpredictable and being undecided in career choices is totally normal – what matters most is to live in the present and enjoy the spontaneity of college life and education. On the other hand, Mr. Romelito Manuel D.S. Clorina, MA, RPsy, RPm discussed career choices that are inclined to the field of psychology, including studying to become doctors or psychologists, or entering the workforce. Both speakers gave absolutely significant talks that recalibrated students career-wise and gave thorough reassessing of the choices that students will make in the future.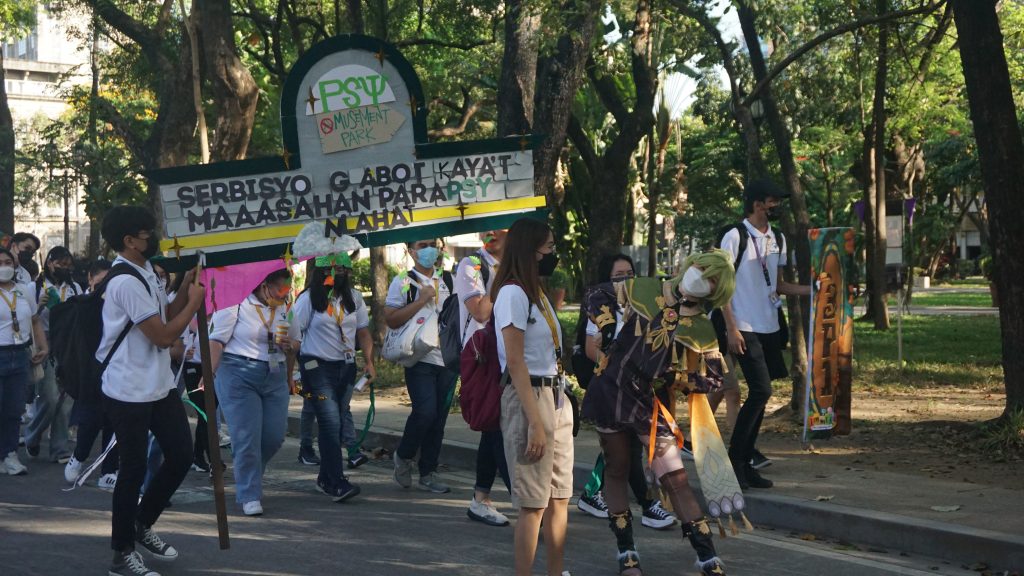 Today, many are still in their discovery of what kind of relationships they have. The second day of the Psychology Week gave remarkable insights that left a mark on their hearts and minds. The event, SINTA, AKO NAMAN MUNA: Pagpili, Pag-unawa, at Pagmamahal sa Sarili, served as an avenue for Thomasians to facilitate positive change in relationships and create better social functioning to improve ties with one another. The first speaker, Mr. Richthofen C. De Jesus, MA, RPsy, RPm, CDRdiscussed familial relationships wherein he put emphasis on the generational gap experienced by the students with their families. Moving on to the next speaker,Ms. Angel Veridiano discussed platonic relationships. Gaining friends may seem difficult as each one differs from being an introvert or extrovert, but the strong emphasis she placed on the short sentence, "just be authentic", explains it all on how platonic relationships arise in our lives. The event ended on the last talk with Ms. Eizaleen B. Fusingan-Lapay, MA, RPsy, RPm, LPT with the question, "When is it the right time to be in a relationship?". She stressed the importance of genuine intentions when choosing to be in a relationship. With that, the speaker also mentioned that one must know how to love oneself first and recognize one's worth before entering a relationship because being with someone is not for oneself to be fixed, but to be able to learn and bloom. She ended her talk with a question for everyone, "Am I ready to be in a relationship?".
The third day of the Psychology Week was entitled PSYcret Potion: Mirrors and Strangers which aims to promote awareness and remove the stigma surrounding mental illnesses through an educational and interactive discussion. Mr. Ryan Edward T. Rabago, MD talked about Body Dysmorphic Disorder (BDD) where he mentioned different standards of beauty that people commonly see as a basis of society's ideal standards may it be for men or women. He had a larger weight on focusing on how individuals in this society must "normalize imperfections or flaws" because even the most ideal person seen on television or social media also experiences what normal human beings live through. On to the second speaker, Mr. Luis Angelo M. Villaroel, MA, RPm, RPsy discussed Social Anxiety Disorder (SAD) in which he focused on informing the students on the definition and different emotions one has on their social anxiety experiences. His lectures served as an "eye-opener" to many that being authentic to oneself is important to show one true self to others. This emphasized on how self-love is one of the dominant factors that an individual must keep in mind. The talk ended with a round table discussion that was open to the students to interact with others and the speakers.
Another lecture, entitled "Making Transitioning Back to F2F Classes Meaningful: An Empowerment Mindset,"was presented by Ms. Anna Coronel-Manlapit in the afternoon. Students thought it was a really pertinent and valuable subject, especially given that things are slowly resuming more or less as the true, not new, "normal" before the pandemic took its place. The matters that were addressed in the talk were found to be encouraging since the speaker made sure that everyone could relate in order to acknowledge their thoughts and struggles regarding the shifts they are experiencing. The speaker further believed that faculty, staff, and students should always "Trust the Process," and this is something that we should strive to model. While keeping a structured and organized physical environment and emotional connections, intentions and efforts should be consistent with the objectives in order for everything to succeed even after being accustomed to the virtual mode for more than approximately three years.
An insightful and empowering discussion was also presented by Ms. Lyra Verzosa, a Mental Health and Psychosocial Services Consultant during the Sikolohiyang Pilipino: Ang Saysay at Tugon sa mga Hamon ng Panahon, an event which tackled and gave a glimpse of the past and present conditions of Philippine Psychology. Ms. Verzosa explained the reliance of ancient Filipinos on specific ways such as rituals to heal disturbances that seem deviant of their norms since there has been no such concrete concept of mental health established before. On the other hand, she also shared her experiences as a mental health volunteer to help victims of domestic violence, disasters, and terrorism recover from the psychological trauma they have experienced. Moreso, she concluded that mental healthcare in the Philippines is highly inaccessible, most especially in areas of minority, and the stigma that surrounds mental health, unfortunately, still exists even until today.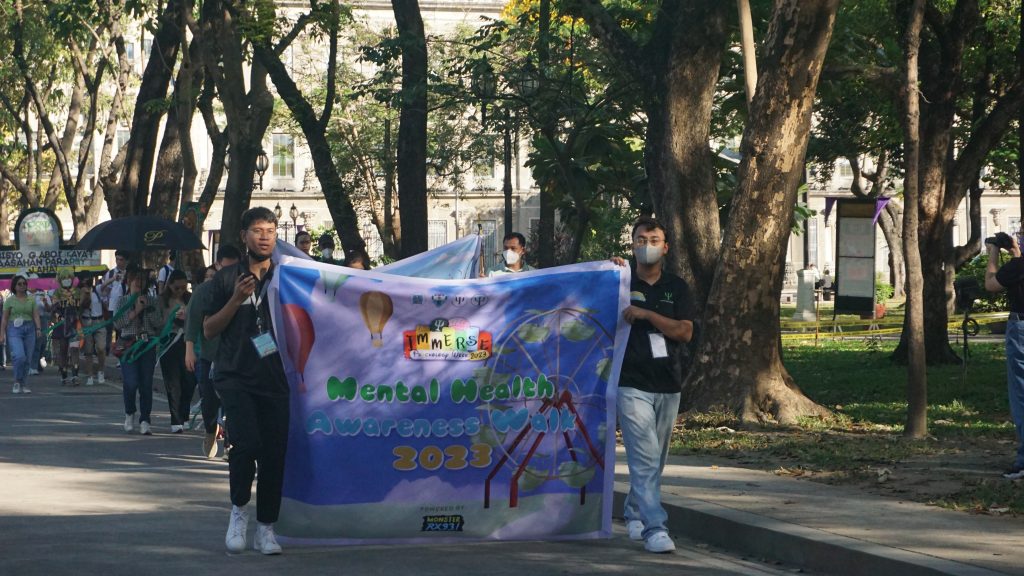 True and bright spirits of Thomasian psychologists have radiated throughout the four corners of the campus as the Thomasian Mental Health Walk was once again held onsite after three years. With faculty members and students from the Psychology department, this year's walk aimed to raise greater awareness and create deeper conversations on mental health through a variety of advocacy campaigns presented during the parade. These include greater awareness of learning disabilities (first years); suicide prevention (second years); affordable and accessible mental healthcare (third years); and ethical and scientific practice of mental health professionals (fourth years).
After the said parade, Coping Outlet opened inside the main building. Spearheaded by sophomores, these outlets are booths that aim to educate and provide different healthy coping mechanisms, and at the same time provide entertainment and enjoyment to students. The first booth, titled Candyscapes, is an escape room that promotes coping through expression; secondly, Odd-Role-Out, aims to educate people on coping through sensations and feelings; and Into the Darkness, which promotes coping through diversion strategies. These booths opened on the 3rd of March in three separate rooms: BLAS Hall, Pedrosa Hall, and Labrador Hall, and featured some products from the event's sponsors.
After a tiring but enthralling Mental Health Walk, the UST Psychology Society prepared an engaging night concert for everyone to end the Psychology Week 2023 with a blast. The said event titled SOLANA: Solace through PSYning at Agham happened on the 3rd of March as a concluding event of the weeklong celebration at the UST Frassati Auditorium. The concert was performed by Thomasian talents of Psychology and some local artists wherein they showcased their prepared performances that would tranquil the students and faculty after a tiring but fun week. It started with the opening remarks from the UST Psychology Society Secretary, Aliyah Tacandong, appreciating the people behind the events for making it possible to be done onsite after three years. The ender event was hosted by Rodajem Callo and Sam Cruz, UST psychology students. It was made possible given the featured artists, Papapeta, UST Archetypes, Saving Sunday, Fourtes, Colinas, and UST Psychology Talent Pool, who performed dance and song covers along with their personal compositions.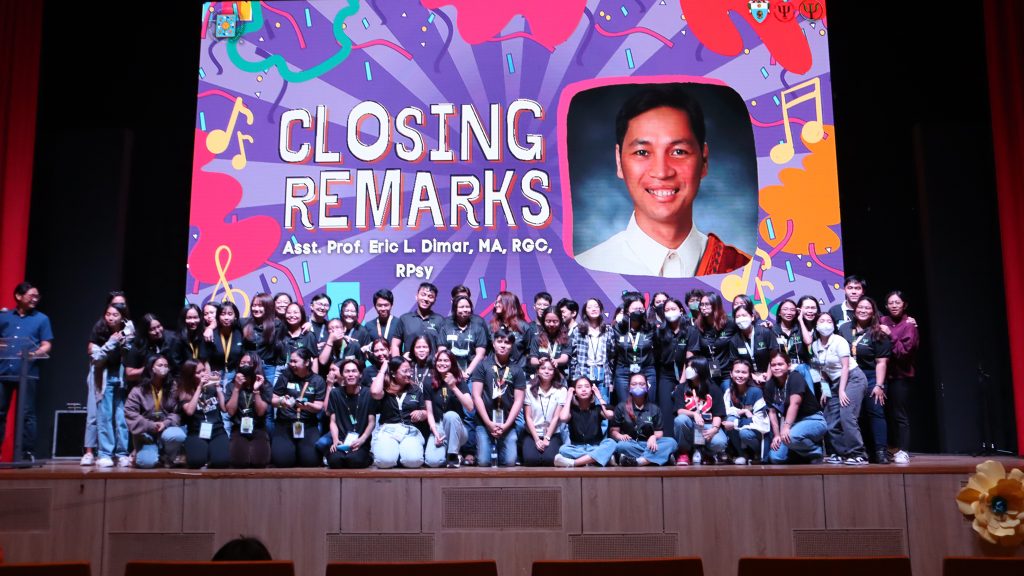 SOLANA ended with a closing remark from the UST Psychology Society President, Aivi Vicente, who extended her gratitude to everyone who made the Psychology Week 2023 possible despite the unforeseen circumstances that occurred during the preparation. This was followed by Asst. Prof. Eric L. Dimar, UST Psychology Society Adviser, as he permitted the executive board together with the organizers and ushers to come to the stage to be recognized for their hardwork and efforts. He ended with a striking quote, "enjoy the ride", which means that despite all the challenges that may block their way, they must keep going and just enjoy the ride.
Also, we would want to acknowledge and congratulate all of the individuals and committees that joined together to make this event a success. Special mention to the UST Psychology Society President, Aivi Vicente, Internal Vice President, Leslie Aseron, and External Vice President, Vian Maxine Senier, together with rest of the executive board team and project heads who deserve a recognition for their efficient leadership and management during the preparation and execution of the events. Despite the shift and transformation that occurred in the past years of living in a virtual mode, the efforts of each and every person involved in the event, particularly the committee in charge–Student Development Committee–have done their parts and made a significant contribution in pushing and pulling through this year's Psychology Week.
It is also uplifting to watch and applaud a variety of performers on stage, including the UST Psychology Dance Troupe – Archetypes, UST Psychology Talent Pool, and the UST AB Communications' Casa Footworks, who were able to simultaneously light up the stage in different events which made each of it extra-magical.
It is a pleasure as well to work together with the Events and Concepts Committee to publish the organizers' thoughts through publication materials, and brought to you by our official media partners Monster rx93.1, IKOT.PH Inc., 933 Creatives, TomasinoWeb, UST-CASA Chronicle, and UST College of Science Journal which facilitated the live streaming and documentation of the events through different media platforms. Moreover, the Psychology Week was co-presented by the UST Central Student Council, UST Science Comelec, Bedan Psychological Society, Elite Students of Psychology Association, TCU Psychology Society, and Cavite State University-The Asclepian Society. This weeklong event was also in partnership with the UST College of Science Student Council, PSYCH I-CARE-Ateneo de Zamboanga University, University of the East Psychological Society (UEPS), Philippine Normal University-Psychology and Counseling Society, and L-NU Psychology Student Council. Lastly, we would like to express our special thanks to UST Pax Romana – Science, UST Hiraya, Xavier University Psychology Society, and FEU Peace To Everyone Youth Group.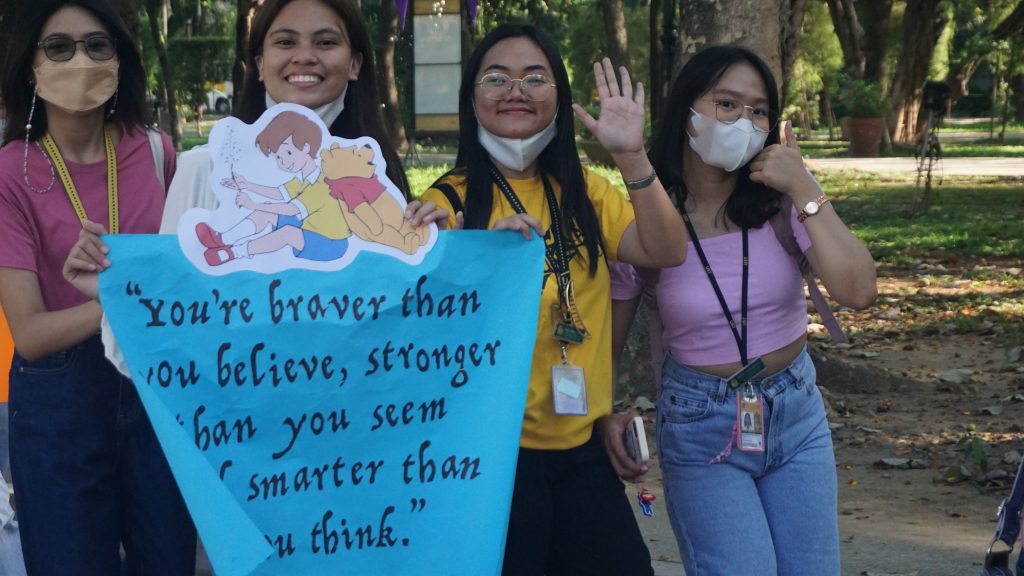 We used to believe that evil only appeared in fairy tales and that life is nothing but shimmers and pixie dust. Yet as time passed, we were also being deceived and swept away by the societal changes that were meant to make these problems worse and distort our viewpoints. It's fortunate that we have professionals in the field who serve as our fairy godmothers and fathers today, pointing us in the right path while supplying us with the essential knowledge, awareness, and surroundings in which to live as we make an effort to cope with everything.
By stepping into the world of Disney through Psychology Week, we might then empower others and provide both the mind and spirit with support systems essential for living both inside and outside of the Thomasian community. We now recognize that this is the truth.
The magical world can continue to exist, but this time with truth and freedom, not only for kings and queens, princes and princesses, but for everyone. Once again, it was a happy, fruitful, and immersed Psychology Week 2023!