Senate President Aquilino "Koko" Pimentel III announced the legislative priorities of the Upper House, measures that he said would "address issues of national importance."
At the opening of the Second Regular Session of the Senate of the 17th Congress, Pimentel said the Senate would fast-track legislation that would ease the burden of Filipino workers, ensure their security, improve the delivery of basic services, allow universal access to health, pave the way for a lasting peace, and empower the country's regions.
"We will ease the burden of working- and middle-class Filipinos while ensuring that all government programs remain funded through the Tax Reform for Acceleration and Inclusion Act or TRAIN. We will ensure the safety of our people by strengthening the Anti-Terrorism Law," said Pimentel.
According to the Senate Chief, the Senate would also work to "improve the delivery of basic services through the National ID system" as well as "provide health care to all Filipinos through the Universal Health Care Act."
The Senator from Mindanao added the Senate would likewise "pursue a path to lasting peace in Mindanao by addressing the valid concerns of our Muslim brothers and sisters through the Bangsamoro Basic Law" and would "empower our regions to determine their development plans, their overall direction, through the shift to Federalism."
Pimentel revealed that the Senate currently had 1,242 bills and 297 resolutions pending in its different committees.
"These are large numbers, but they are not daunting numbers. We have proven in the previous session just how much work we can put in when the public welfare is on the line. I am confident we can do just as well, or even better than how we did in the previous session. There are no better companions for the tasks ahead other than the Senate family."
Pimentel also thanked his colleagues, as well as all Senate officials and employees, for making the Senate "the most trusted major institution in our country today."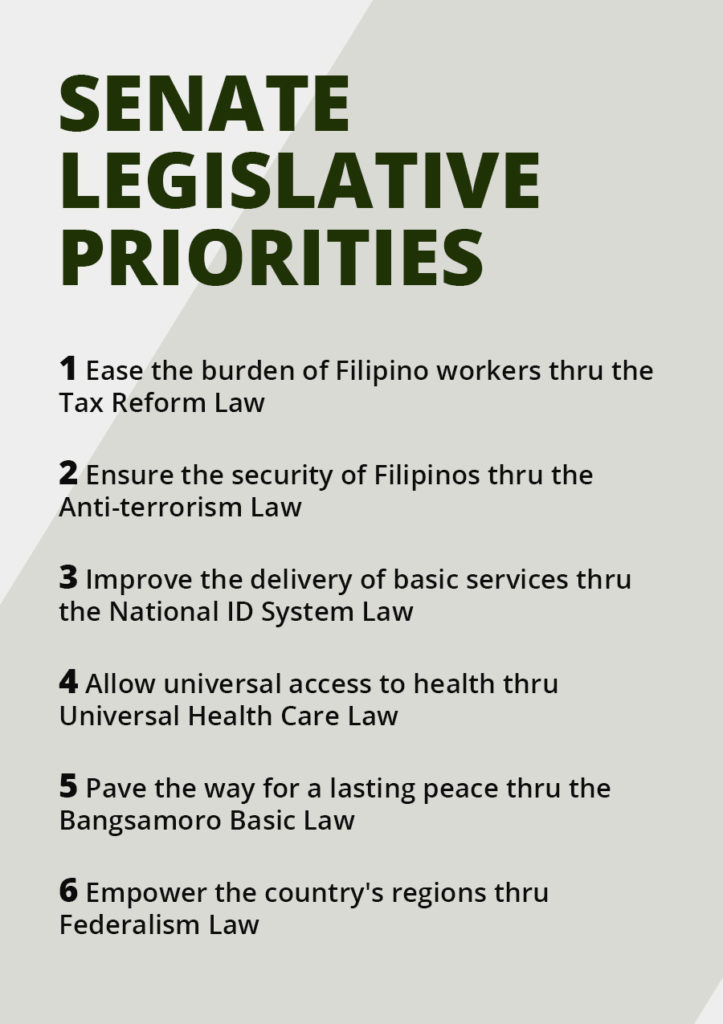 Pulse Asia recently released a survey that showed the Senate enjoying a 59% approval rating, four percentage points higher than its approval ratings in March 2017. The survey, taken from June 24 to 27 this year, also showed that 57% of Filipinos trust the Senate, a three percentage-point bump from its March numbers.
"Congratulations are therefore in order for everyone – my fellow senators, your staff, and the officials and employees of the Senate; this should inspire us as we resume our session," Pimentel said.
"But with higher trust and higher approval come higher expectations. We may have performed well before, but we must exceed the standard we set in the previous session if we are to retain or exceed the trust and approval that we have obtained from the public. I am confident that we, the Senate family, can successfully meet this challenge."