With the theme "Kaisa Ka sa Musika," the annual advocacy-led UP event is back on-ground from February 14-18 where different rides, booths, and bazaars await, including the much-awaited advocacy concerts arranged by various UP Diliman Organizations, all happening in the University of the Philippines Diliman Sunken Garden.
One of the most awaited events would be Kalye Tunes which is set to hype up the UP Fair crowd on its 2nd day, February 15, 2023, bringing together the best local hip-hop and Original Pinoy Music artists on one stage. The event is led by the EMC²  Fraternity under the College of Engineering. It highlights and promotes the culture of local hip-hop music intending to advocate the plight of the urban poor in the country, with their struggles including the jeepney phaseout, affordable housing, and a national minimum wage.
Kalye Tunes: UP Fair Wednesday brings out the sizzles with this year's line-up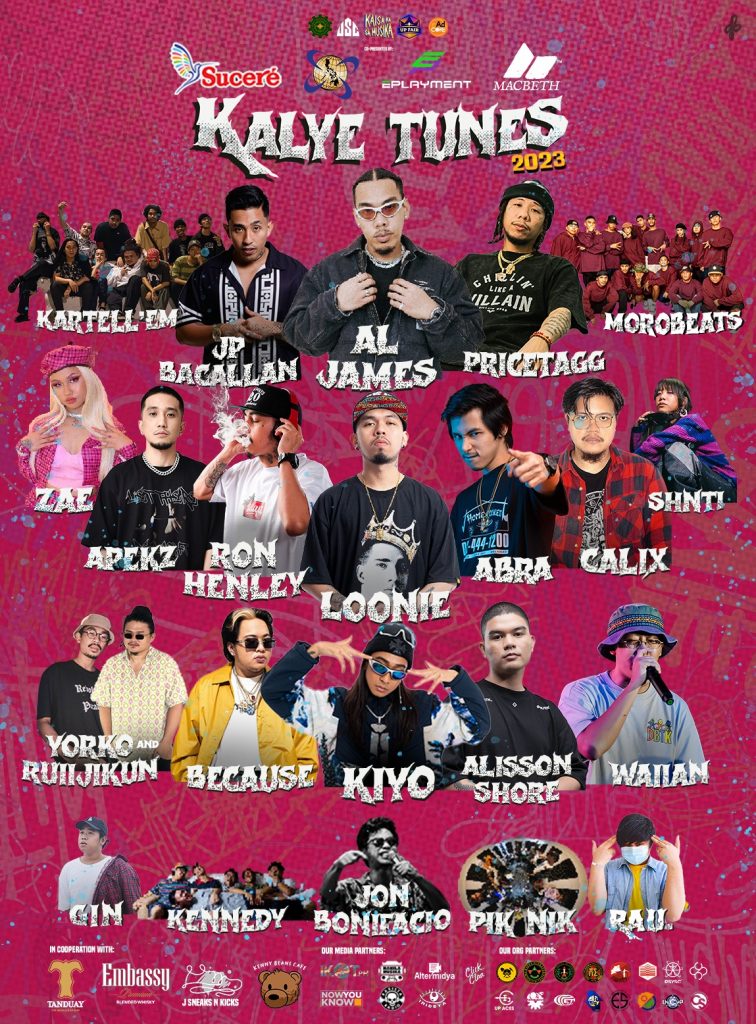 Among its jam packed line-up, mainstream hip-hop artists Al James, Loonie, Kiyo, Abra, Alisson Shore, and Because will highlight the said event. Hip-hop groups shall also perform including Kennedy, Pik Nik, Kartell'em, and Moro Beats. Rising hip-hop stars Gin, Jon Bonifacio, Pricetagg, JP Bacallan, Ron Henley, Apekz, DJ Buddah, Zae, Caliz, Waiian, Shnti, Yorko, and Rau shall also share the stage with the rest of the line-up. Dilimans' home-grown UP Streetdance Club shall also make their special appearance on the same day.
Staying true to its roots, Kalye Tunes returns to amplify calls from various advocacies
Continuing their culture of not only promoting and giving exposure to the underappreciated hip-hop music genre in the Philippines, but Kalye Tunes also continues its advocacy for the urban poor, campaigning for proper housing, humane jobs, fair wage, and free education for all.
Excited for the upcoming event? On-ground tickets are still available on the day of the event, on February 15, at the Sunken Garden, UP Diliman. The prices range from P200 for UP concertgoers and P300 and non-UP concertgoers. See you there!